Neomedic
"Your source to affordable healthcare"

Neomedic Limited was established in 1997 with the explicit aim of being the worldwide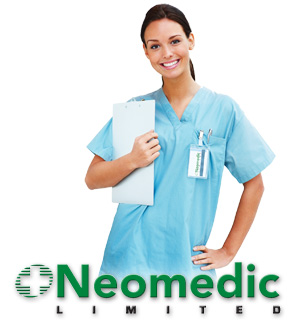 leader in the manufacture and supply of integrated medical disposables.
Since that date, Neomedic Limited has become one of the United Kingdom's
largest ISO 9001:2008,ISO 13485:2003, CE, CMDCAS
and WHO PQS Certified manufacturers and exporters of medical disposables
. This has led to the establishment of a worldwide network of distributors,
with the product present in over 60 markets incorporating Europe, the Middle East, Africa, Caribbean.

South Asia, North/Central/South America and the
In addition, Neomedic Limited is an accredited supplier to the United Nations agencies and has been supplying
these since 2001. Neomedic Limited has three stated Commitments:

Provision of Quality Products
Affordable Pricing
Highest Levels of Customer Service
Mediplast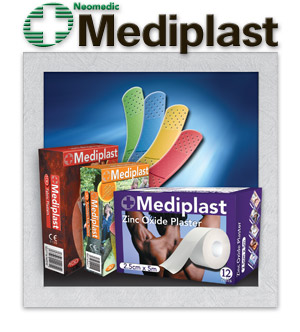 Roll and Strip Plasters
Mediplast is a range of high quality roll and strip plasters designed to meet the vast majority of clinical and first aid treatments.

The product line includes:

Clear, Fabric, Waterproof, Fun Strips and Assorted Strip plasters
Clear First Aid Tape roll
Fabric Plaster roll
Silk Tape roll
Zinc Oxide Plaster roll and
Surgical Paper Tape roll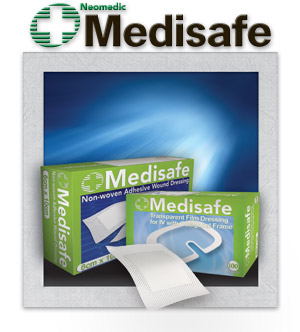 Medisafe
Neomedic MedisafeAdhesive Plasters

Medisafe is a set of non woven adhesive plasters and film dressings for dressing sensitive wounds, incisions and other traumatic injuries.

The product range includes:
Non-Woven Adhesive Wound Dressing & Film Dressing

Neoject
Premium Disposable Syringes & Needles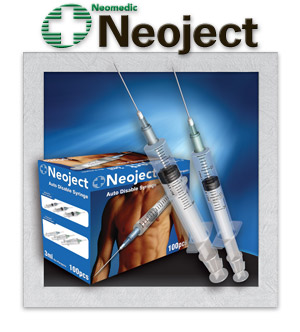 Neoject is a range of disposable syringes and needles using the finest quality
materials, the range offers a precise, safe and relatively painless syringe and needle
combination.

The product line includes: Premium Disposable Syringes in sizes of 1ml, 2ml, 3ml, 10ml, 20ml, 30ml, 50ml and 60ml;
in combinations of luer lock, slip tip, or catheter tip, with or without mounted needles
Premium Disposable Needles from 16G through 27G
Auto Disable Syringes
Retractable Safety Syringe
Fixed needle Syringes in sizes of 0.5mL and 1mL


Neogloves
Premium Quality Medical Gloves

Neogloves is a high quality range of medical gloves that consist of latex and non-latex,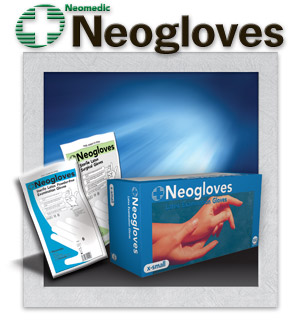 powder and powder-free & sterile and non-sterile gloves.

The product line includes:

Latex Examination Gloves
Latex Powder-free Examination Gloves
Nitrile Examination Gloves
Nitrile Powder-free Examination Gloves
Sterile Latex Surgical Gloves
Sterile Latex Powder-free Surgical Gloves
Vinyl Examination Gloves
Vinyl Powder-free Examination Gloves


Neosafe
Neomedic NeosafeCotton Wool, Gauze & Bandages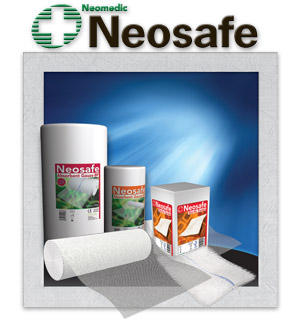 Neosafe is an exciting range of medical dressings consisting of Cotton based Absorbent Gauze
, Absorbent Cotton Wool, WOW Bandages & Swabs and the latest in non-woven cushioned
dressings.

The product line includes:

Absorbent Cotton Wool BP rolls
Absorbent Gauze BP rolls
Absorbent Gauze Swabs
Absorbent Gauze Swabs with X-Ray thread
Cotton WOW Bandage rolls
Laparotomy Sponge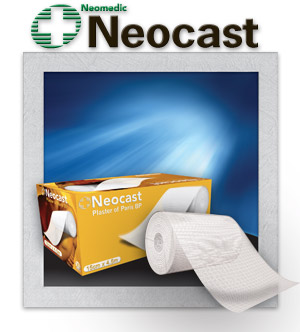 Neocast
Plaster of Paris, Undercast Padding.
Neocast consists of Plaster of Paris. The product line includes:
Plaster of Paris, Undercast Padding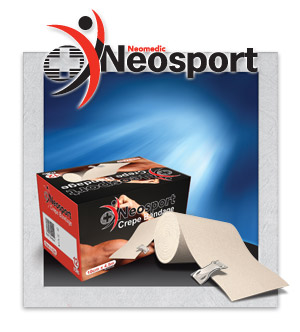 Neosport
Sport Bandages, & Supports
Neosport is a set of specially designed bandages and braces that provide
stability to weak and injured joints.

The product line includes:

Elastic Adhesive Bandages
Crepe Bandages
Ankle Supports
Elbow Supports
Wrist Supports
Knee Supports

Neovac
Neomedic NeovacCatheters, Infusion & Transfusion Sets

Neovac is a range of infusion, transfusion and catheterisation devices.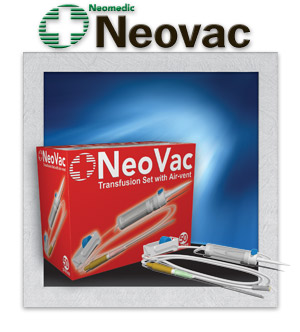 The product line includes:

Urine Bags
Guedel Airways
Feeding Tubes
2 Way Foley Catheters and 3 Way Foley Catheters
Nelaton Catheters
Scalp Veins
Stomach Tubes
Suction Catheters with Thumb Control
Transfusion Sets and Transfusion Sets with Air-vent
Infusion Sets, Infusion Sets with Air-vent and Infusion Sets with Air-vent and Y Injection Port
Yankaur Suction Sets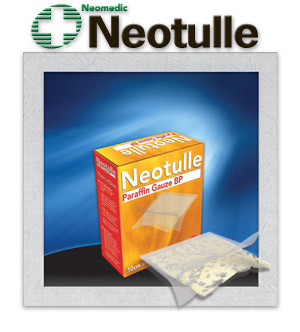 Neotulle
Neomedic NeotulleNeotulle is Neomedic Limited's brand name for paraffin impregnated gauze swabs.

A much used primary wound contact layer that allows treatment of an exuding wound
whilst reducing the adherence of the wound to the material.
Neoguard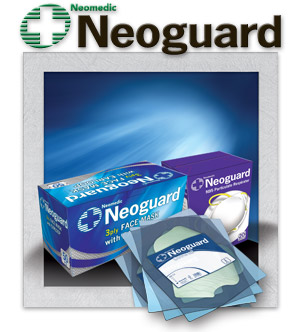 Single use disposable protective apparel created from high quality non-woven materials to suit numerous requirements and levels of protection.

The Neoguard range incorporates

the following singular features:

A large variety of options covering a number of protective needs
Made from superior non-woven materials which have been layered and engineered to provide different levels of protection and where appropriate are resistant to damage, tearing and penetration Outer layers are smooth to touch with middle layers providing the necessary protective and filtration performance
Cost effective single use option thus minimising risk of contamination.
Neocare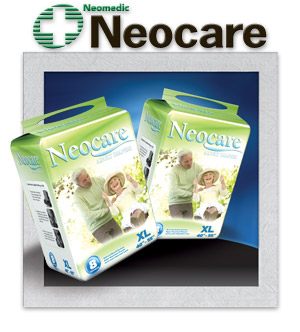 Neomedic NeocareA trusted solution for adult incontinence combining discreet design
with superior absorbency and comfort.

A versatile diaper that is simple to wear

Super absorbent core ensures that moisture is locked for an extended
period of time

Discreet elegant design thus ensuring an uninhibited lifestyle

Soft, smooth, dry and germ free outer layer leave skin healthy and smooth
Neosoft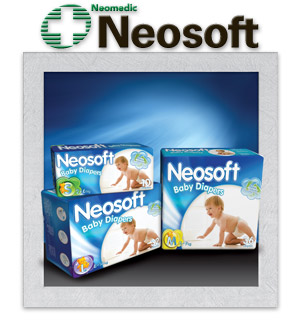 Neomedic NeosoftNeosoft diapers are super absorbent with a breathable outer layer and
flexible waistband thus ensuring that every baby remains dry and secure at all times

Advanced formula super absorbent core

Ensures that moisture is retained for an extended period without risk of leakage.

Flexible waistband allows for uninhibited movement and activity.

Breathable outer layer keeps baby's skin dry and healthy at all times.

Attractively packaged in a number of easy to gauge sizes and pack options


Occidem Biotech
Occidem Biotech is a specialised subsidiary of Neomedic Limited dealing
with the manufacture and supply of:



Reagents
Blood Collection and Transfusion Products
Urine Based Tests

Occidem Biotech shares the objective of Neomedic Limited to
provide quality healthcare at affordable prices.